O Marketing Ágil nasceu da necessidade de:
✅ Gerir a priorização de tarefas e projetos;
✅ Promover a interação entre os colaboradores;


✅ Obter visibilidade para os projetos/campanhas dentro da empresa;


✅ Conseguir um alinhamento entre todos os departamentos.


✅ Com o objetivo máximo de aumentar a produtividade.
A implementação da metodologia Agile numa equipa ou departamento de marketing significa que os membros devem adotar os métodos relacionados com este modelo.
Assim, aumentamos a motivação do grupo e a qualidade do trabalho, impulsionamos a inovação, melhoramos os processos e permitimos um ritmo de trabalho sustentável.
Implementar o Agile WOW (Way of Work) em Marketing
Muitas vezes, este método utiliza elementos e práticas de scrum, kanban, scrumban ou lean que vêm do mundo do desenvolvimento de software e incluem transparência, interação, colaboração e comunicação constante, e gestão visual do trabalho.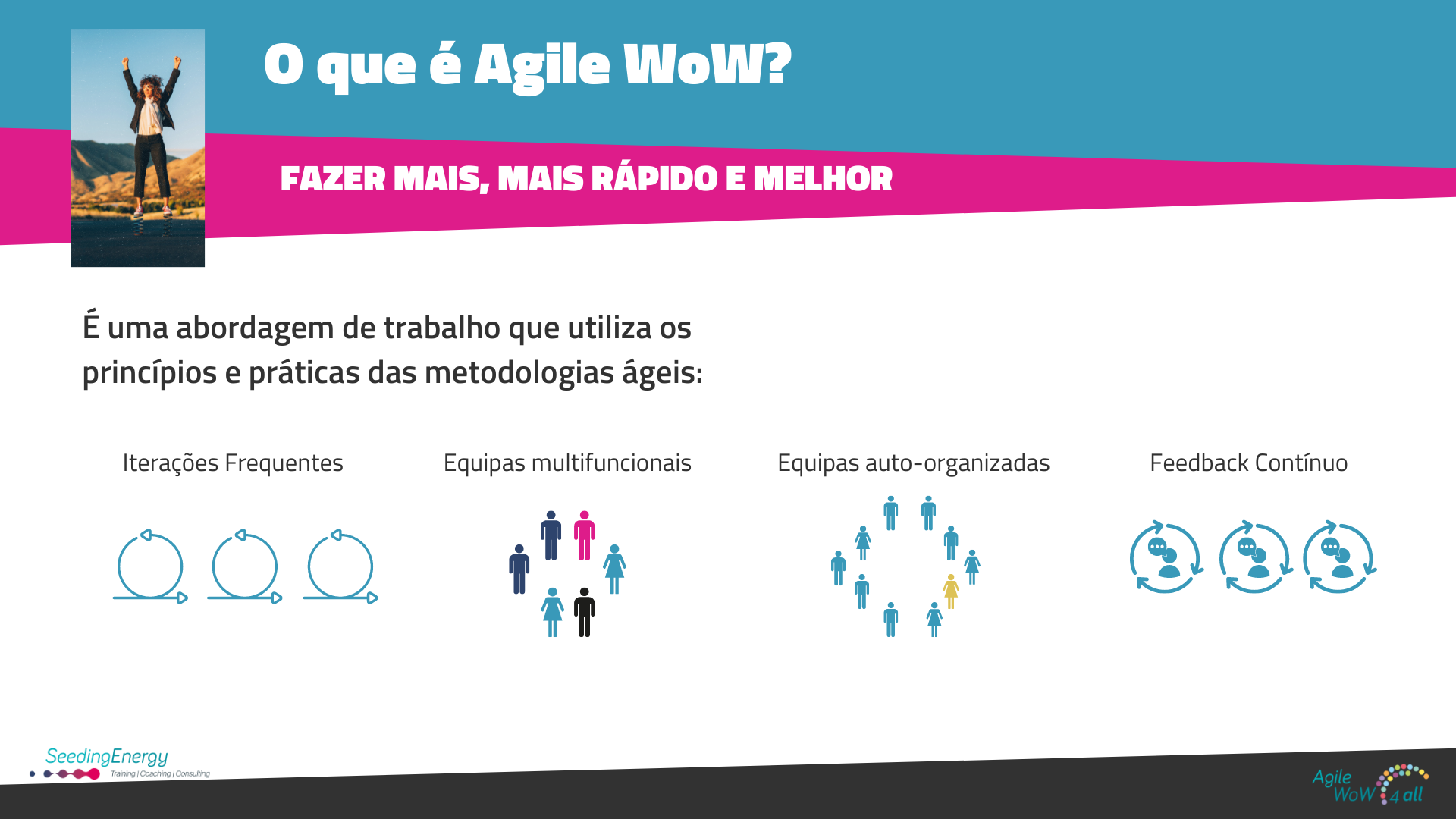 Tendo em conta os os 4 Ps - Propósito, Pessoas, Processos e Plataformas - podemos estabelecer e implementar metodologias ágeis para as equipas.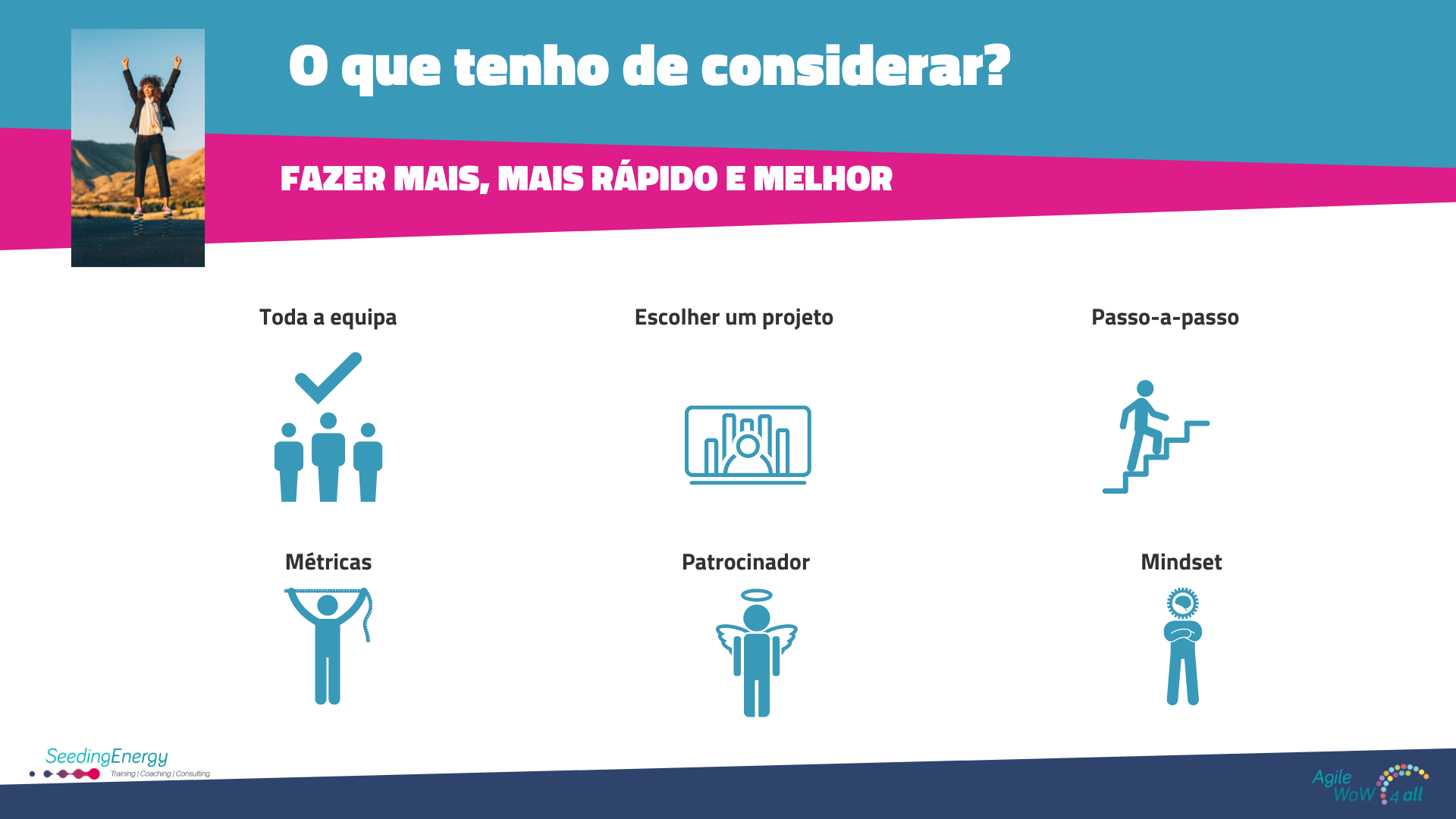 Além disso, também é preciso
considerar estes Três pilares estratégicos:
Listening

–

a importância de perceber e escutar os consumidores para entender as suas necessidades é imprescindível;

Engaging

– é essencial a interação com a comunidade, ou seja, é preciso que exista uma interação tanto entre as equipas e departamentos dentro da empresa como também entre a empresa e os consumidores de modo a que todos tenham consciência do que é necessário para atingir os objetivos;
Transforming

- um exemplo é a formação dos colaboradores e a adaptação de todo do mindset da empresa, departamentos e equipas, inclusive com a aplicação de métodos e frameworks diferenciados e adaptados às necessidades específicas de cada caso.
Teste rápido sobre Ágil WoW (Way of Work)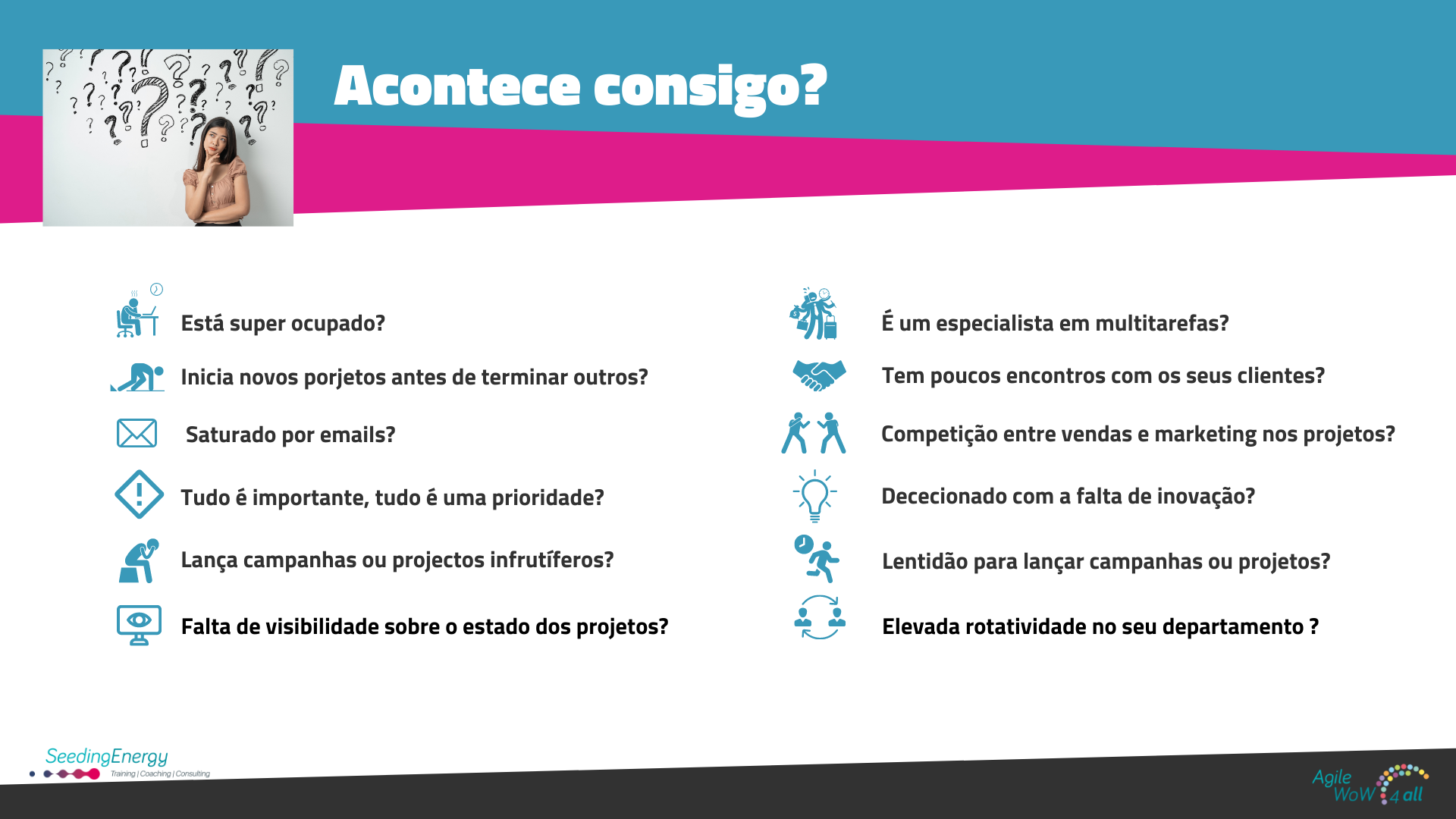 Se respondeu sim a qualquer uma das situações acima é possível que necessite de compreender melhor a metodologia e princípios ágeis através da certificação ICAgile ICP- MKG.
Deseja saber mais? Contacte-nos através do formulário abaixo.
¿Estás preparado?
Sé el primero en aportar innovación en tu departamento de Marketing
Created with